Outdoor LED Display Screen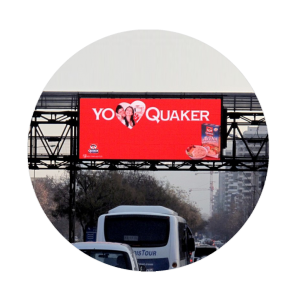 Outdoor LED Display Screen
Parameter
Value
Unit
Application
Outdoor
Pixel pitch
16
mm
Brightness
7000
nit
Panel dimensions (W×H×D)
768×1024×120
mm
Panel material
Aluminum
Weight
22
kg/panel
Pixel configuration
1R1G1B
Module dimensions (W×H)
768×62
mm
Pixel matrix per panel
48×64
pixels
Pixel density
3906
pixels/sq.m.
Refresh rate
≥3120
Hz
Gray scale per color
65536
level
Colors
281 trillion
Viewing angle (H/V)
120/60
deg.
IP rating (Front/Rear)
IP65/IP65
Power consumption (max/avg)
450/150
W/sq.m.
Input voltage (AC)
110 ~ 240
V
Operating temperature
﹣20 ~+ 50
°C
Operating humidity
10% ~ 90%
Source compatibility (with video processor)
AV, S-Video, VGA, DVI, HDMI, SDI, DP
Light weight:
Outdoor LED display screen is becoming more famous because of it's clarity, brightness and cost-effectiveness. It's light weight and the panel is made of aluminium extension frame which makes it lighter to the other LED panels.
Light and wind through:
Transparency rate is 14%, resulting in saving weight and improving heat dissipation, and making better outdoor lighting.