Indoor Display Board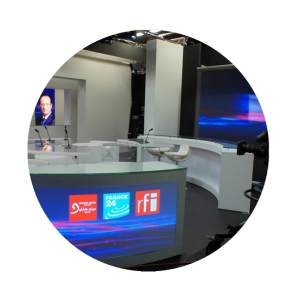 Indoor Display Board
Parameter
Value
Unit
Application
Indoor
Pixel pitch
5.2
mm
Brightness
1500
nits
Panel dimensions(W×H×D)
750×750×62
mm
Panel materail
Steel
Weight
19.5
kg/panel
Module dimensions (W×H)
250×250
mm
Pixel configuration
3-in-1 SMD
Pixel matrix per panel
144×144
pixels
Pixel density
36864
pixels/sq.m.
Refresh rate
≥960
Hz
Gray scale per color
8192
level
Colors
54.9
Billion
Viewing angle(H/V)
140/140
deg.
IP rating(Front/Rear)
IP40/IP21
Power consumption(max/avg)
450/150
W/sq.m.
Input voltage(AC)
110~240
V
Operating temperature
-10 ~ +40
°C
Operating humidity
10%~90%
Source compatibility(with video processor)
AV,S-Videom,VGI,DVI,HDMI,SDI,DP
Note: Specification subject to change without prior notice.
Smaller in size with brightness level of 1500 mm.
Indoor display boards are ideally used indoors or semi-outdoors.
Compatible with video processors AV, HDMI etc.
Viewing angle is 140 providing clarity at a further distance.